413 Giles Rd., Blacksburg
Jill Stewart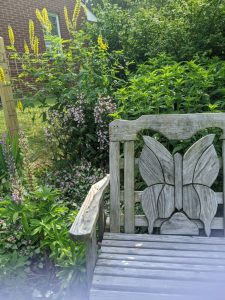 This quaint little house sits on the back of a quarter–acre lot surrounded by flowering plants and shrubs. Filled with poison ivy, weeds, and volunteer trees when Dr. Stewart moved in five years ago, the small lot has been transformed with flower beds on either side of the house, on the bank, along the fence line, under the sugar maple, and around the connected storage and garden sheds.
A mixture of natives and non-natives is planted throughout the flower beds. A small succulent bed found its perfect spot on the bank beneath an old sugar maple stump. Daylilies, columbines, creeping phlox, buddleias, pink polka-dotted bell flowers, sedum, liatris, baptisia, and other flowers are included on the bank which is often noticed by passers-by.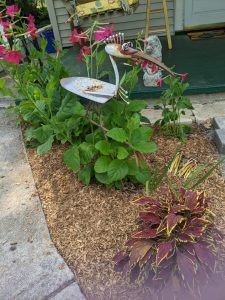 Between the house and the fence is a shade garden with two camelias, a Korean spice viburnum, an anise, many Lentin Rose, and a blue sea of forget-me-nots. All the bricks and rocks used for the borders and steppingstones were found on the property.
A vegetable garden on one side of the house is productive enough for sharing as well as for feeding the owner throughout the year. Jill, who does most of her own gardening, hopes that seeing her garden will encourage others to plant vegetable gardens of their own!
Click on the slideshow to see the full-size photos

All photos in slide show (C) Charles Bostian